Experience ReSound LiNX™, the revolutionary hearing aid from ReSound.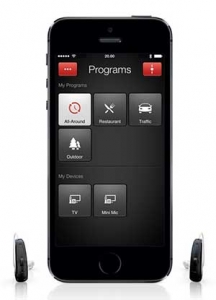 ReSound LiNX™ represents the next step forward in hearing aid technology. Designed to connect directly with your iPhone®, iPad® or iPod touch®, ReSound LiNX™ provides 360-degree hearing in a package that's smarter, smaller and more connected. In addition to connecting to your phone calls, music and media, flexible settings and the fully-customizable companion app, ReSound Smart™ app makes ReSound LiNX™ the perfect option for nearly all levels of hearing loss, and all lifestyles. ReSound LiNX™ also features Surround Sound by ReSound™ providing the hearing experience that is right for you. ReSound LiNX™ is a revolutionary hearing aid, and so much more—built to help you hear life to the fullest.
Designed to be smaller. Built to be smarter.
ReSound LiNX™ is a leap forward in hearing aid design. Maximum flexibility is paired with a small, discreet body that delivers minimum visibility. You get a smarter level of hearing technology in a comfortable, durable, water resistant package, so you'll notice the difference in hearing, even if you don't notice the hearing aid.
Connect seamlessly to your iPhone®, iPad® or iPod touch®.
ReSound LiNX™ is designed to connect directly to your iPhone, iPad or iPod touch allowing you to stream music, phone calls and other media without the need for an additional relay device. With features that include FaceTime® streaming and integration with the ReSound Smart™app, you'll be experiencing a level of connectivity that's never been seen before.
Call us to learn more about this amazing hearing solution. 1-888-779-4442
©2014 The GN ReSound Group, all rights reserved. Apple, the Apple logo, iPad, iPhone, iPod touch and FaceTime are trademarks of Apple Inc, registered in the U.S. and other countries. App Store is a service mark of Apple Inc.